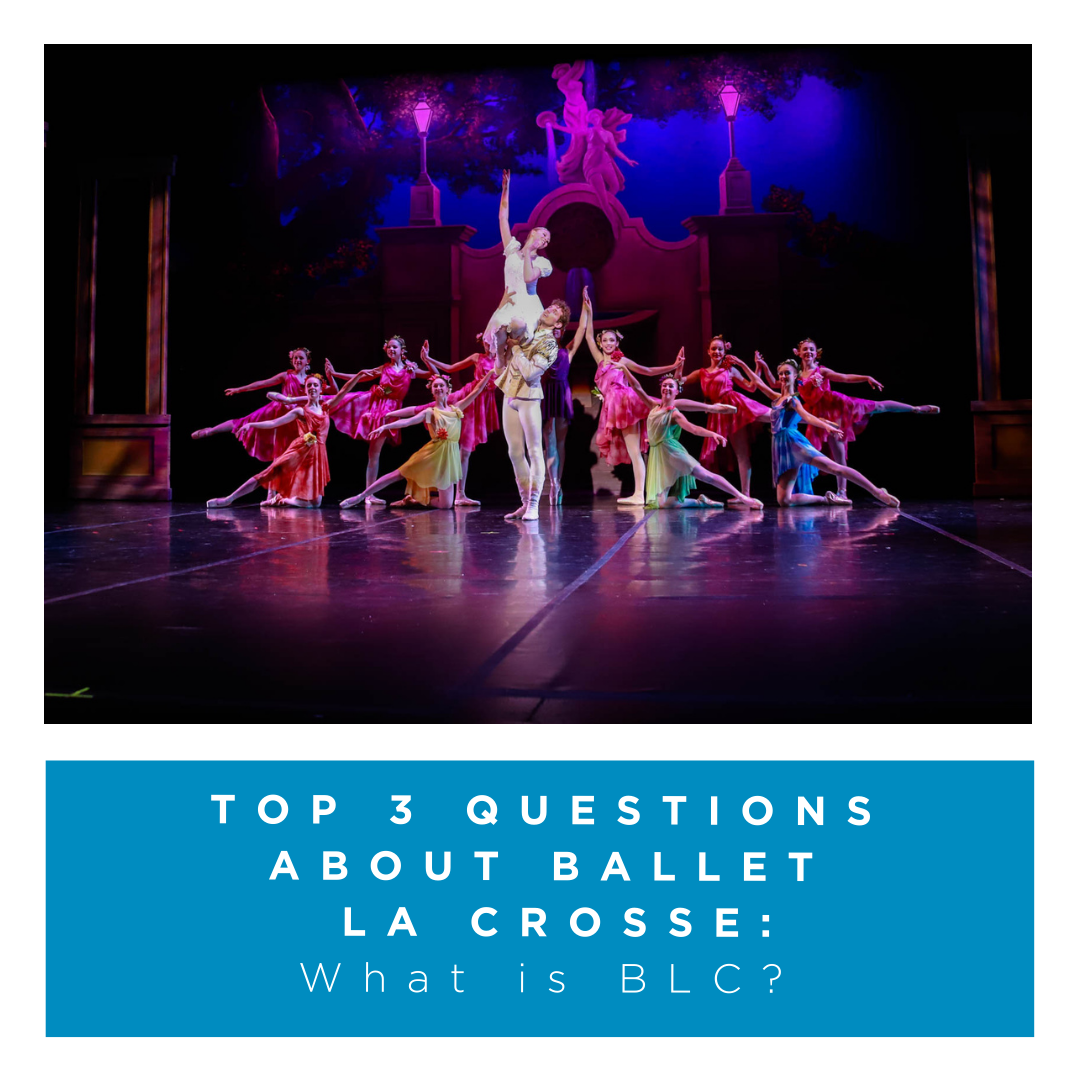 Top Three Most-Asked Questions about Ballet La Crosse
Top Three Most-Asked Questions about Ballet La Crosse
The talent was here, the desire was here, but until a few years ago, the opportunities to train professionally were sparse to nonexistent in the Coulee Region. A dancer with the drive to train beyond upper-level classes would literally have to drive—a long way—in order to train with a professional company. Ballet La Crosse changed that. Read on to see answers to three often-asked questions about Ballet La Crosse.
What is BLC?
Ballet La Crosse is a semi-professional ballet group with a dual purpose:
To increase exposure to and appreciation for classical performance arts in the community
To provide opportunities for area youth to gain training that mirrors that of the professional world
Ballet La Crosse has become an exciting addition to the local arts scene and provides a tremendous opportunity for young dancers, children and audience members alike to experience the magic of ballet.
Mr. Kennet Oberly, the original artistic director and choreographer for Ballet La Crosse, inspired a passion for ballet within a generation of dancers here in La Crosse. Under his direction and creative process, students have experienced the invaluable gifts that ballet can bring: hard work, creativity, attention to detail, patience and the love of storytelling. Mr. Kennet passed away in 2016, leaving a legacy of excellence and inspiration that will last for generations.
The creation of Misty Lown, owner and director of Misty's Dance Unlimited, Ballet La Crosse continues to benefit from the guidance of internationally celebrated dancers. Miss Larissa Oberly, Miss Alexandra Meier, Mr. Dennis Williams and Miss Amanda Schams are the Artistic Staff.
Ballet La Crosse produces two shows each season. In the fall, they stage a full-length story ballet. In the spring, they produce a mixed-bill contemporary ballet. Both productions consistently sell out, fulfilling BLC's mission to share beautiful classical performances with an eager audience.
Who is eligible for BLC?
Fall ballet auditions are open to dancers ages 8-18. Dancers don't have to be students at MDU to dance for BLC, but they must take weekly ballet classes at a studio in order to qualify to participate. Spring ballet auditions are open to students ages 12 and up (Level IV and up).
What is the time commitment?
Dancers who earn a role in the fall ballet participate in a two week summer choreography camp. Regular rehearsals start the first week of classes and are held every Friday and Saturday until the performance.
In addition to choreography camp, Ballet La Crosse dancers are required to take Stay Strong classes at MDU, a ballet intensive or other equivalent training in the summer. During the school year, dancers must take weekly ballet classes, the number of classes corresponding with their level of training.
Entrance to Ballet La Crosse is via audition. To learn more about becoming a dancer with Ballet La Crosse, email balletlacrosse@gmail.com