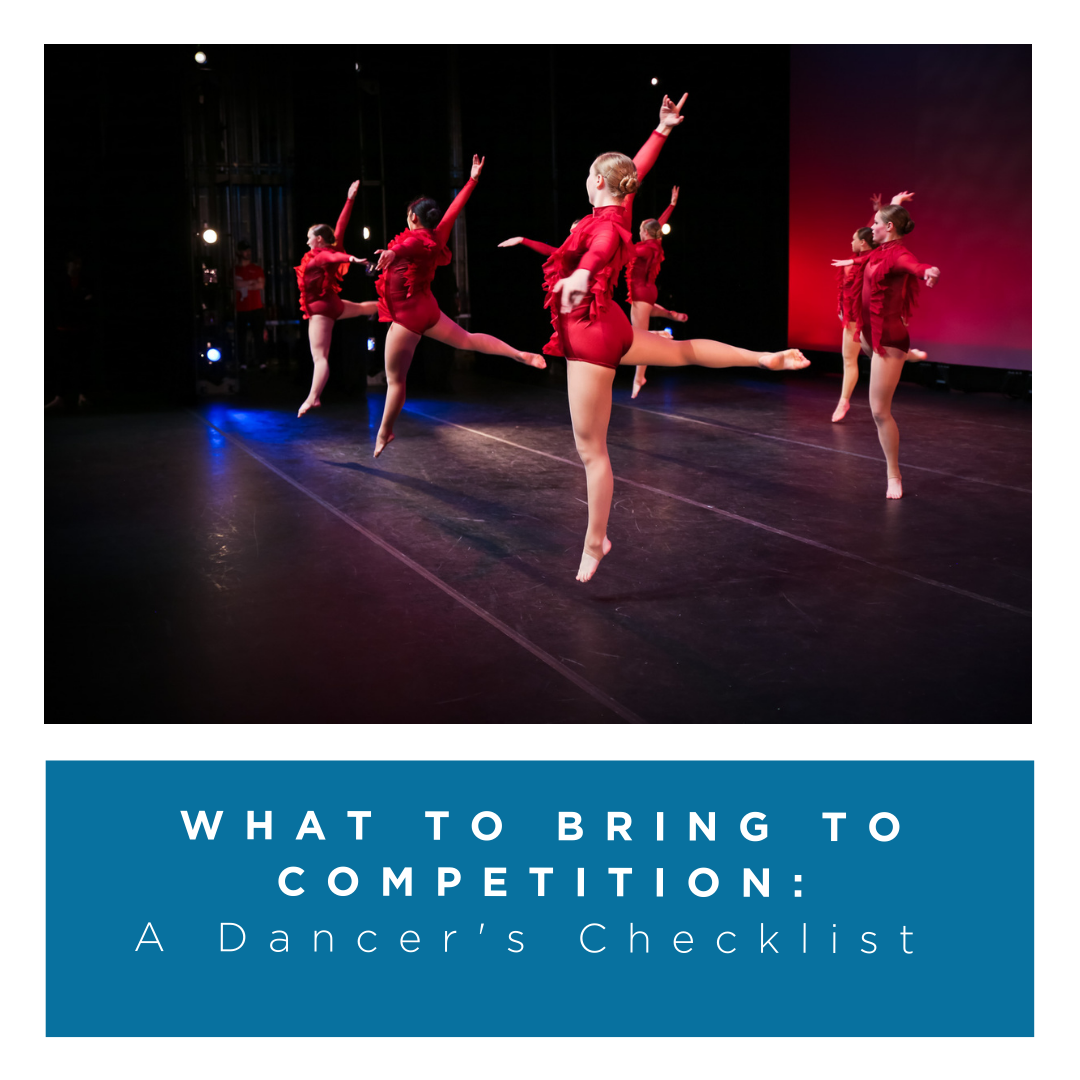 What to Bring to Competition: A Dancer's Checklist
What to Bring to Competition: A Dancer's Checklist
Dance competitions offer opportunities for your dancers to show their love of dance and the chance to show the results of their hard work and many rehearsals throughout the year. While you can't walk away with trophies every time, you can win at being prepared for the event. Beyond costumes and shoes, seasoned dancers know that packing other smart supplies can help them be prepared for any situation at a competition.
When planning for competition, consider the What Ifs:
What if there's no parking near the venue?
A rolling suitcase is a wonderful investment for a dancer who may have to haul her gear a long way. A roll of quarters is also helpful to have in case of the need to feed a meter. Comfortable tennis shoes are a must-have for faraway parking situations, as well as for running around between dances.
What if we have a wardrobe malfunction?
Dancers' costumes take a beating during every performance, and the odds of something snapping or popping increase on competition days. Be ready for every costume contingency with a mini sewing kit and safety pins. Some dancers have been known to turn to super glue and duct tape. Seriously.
What if we get hungry?
Assuming the venue will allow you to bring your own snacks, remember complex carbohydrates and healthy proteins are the way to go. If the venue won't allow outside food, plan your escapes between dance numbers to grab a healthy snack offsite. You'll also want a lot of water for your dancer, so a refillable water bottle can be a big help.
What if we get bored between numbers?
Sometimes you'll have long waits between performances, so bring something to do. Think of things that will help your dancers bond as a team as well as quiet items to help them have some down time throughout the busy day.
What if something hurts?
Anticipate sore muscles, blisters and nervous tummies. None of those things may happen, but it's best to be prepared just in case.
The "What Ifs" can be endless, but we've put together a checklist based on the needs we've seen in the dozens of competitions we've attended.
To Wear
Costumes and all related accessories

Spare tights in appropriate colors

Sewing kit

Thread to match each costume

Safety pins

Lint Brush

Static Spray

Portable spot remover

Extra clear or tan bra straps for female dancers

Dance shoes and straps

Undertard if your dancer will be changing backstage
Food
Cosmetics
False eyelashes

Eye liner

Eye shadow, blush and lipstick in performance company colors

Foundation or loose powder if your dancer prefers

Makeup brushes, cotton balls, Q-tips

Makeup remover
Hair Products
Hair brush

Comb

Spray bottle with water

Hairspray

Hair accessories for each dance clearly labeled

Bobby pins

Hair nets to keep buns tidy
First Aid & Physical Needs
Extras
Extra copy of dance music

Journal, book, or homework

Pens/pencils/colored pencils

Phone and charger

Money for souvenirs or programs

Towel

Pillow

Blanket

Warm-ups

Slippers/flip flops
What if something goes wrong on stage?
In the words that our Miss Shayna, MDU school director, says to every class of little ones...."Just keep dancing!" Great advice for competition, stage and life!